Contact Information:
email:
composer@michaelmathenia.com
mmatheni@utm.edu
​
UTM Faculty Page:
http://www.utm.edu/departments/music/faculty.php



Commissions: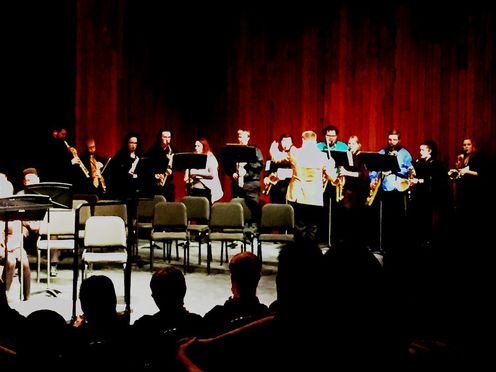 Original Scores:
$50-200 per minute, depending on factors such as scale, instrumentation, total duration, etc.
Arrangements:
Small scale package - 1-8 minutes and for limited forces (1-6 instruments) - $75-125
Large scale package - 8-15 minutes and for larger forces (6-10 instruments) - $150-250
​The
terms of arranging projects that exceed these two options must be negotiated on an individual basis.
Please contact directly with any inquiries about pricing or package details. All licensing fees must be paid by the hiring party and are not included in the commission price.
Depending on the project, all prices listed here may be negotiable/subject to change.
---
Pictured Above:
UTM Sax Ensemble performing "Careless Whisper"
by George Michael and arranged by Michael Mathenia

Private Lessons:
Dr. Mathenia is currently employed by the University of Tennessee at Martin, where he has maintained a composition studio and taught private lessons and weekly seminars of contemporary music since 2016. He has also taught violin, viola, and cello lessons privately and through various organizations in the Jackson and Memphis TN areas since 2002 and currently maintains a private string studio out of his home in Jackson, TN.
For violin, viola, or cello lessons (in person only) or composition lessons (in person or via Skype appointment), the following rates apply:
In person:
$25 per half hour
​$40 per hour
Via Skype:
$20 per half hour
$30 per hour
Prices listed above may be subject to change. For current lesson fees or inquiries, please contact directly using the information above.