The Jackson Four String Quartet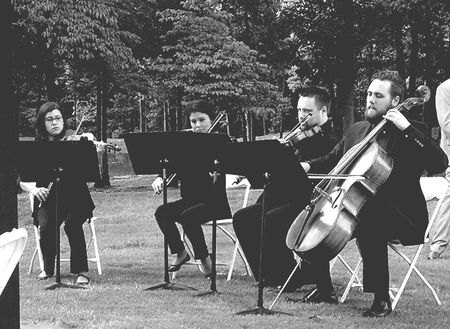 Playing weddings, parties, and more in the West Tennessee area...
---
---
---

About Us:

Founded in 2010, the Jackson Four String Quartet (J4SQ) performs regularly in the West TN region for a variety of events. Our ensemble usually includes two violins, viola, and cello and possesses a large repertory of classical music, traditional wedding music, and contemporary arrangements. Some of our most commonly requested selections include:

Ave Maria - Bach
Bridal Chorus - Wagner
Canon in D - Pachelbel
Hornpipe (from The Water Music) - Handel
Jesu, Joy of Man's Desiring - Bach
Psalm 19 - Marcello
Sheep May Safely Graze - Bach
Surely the Presence - Wolfe
Trumpet Voluntary - Clarke
Wedding March - Mendelssohn


For a complete repertory list or for special requests (we do arrange music for quartet or other instrumentation upon request), please inquire using the contact form below or browse the archive for yourself to the left (not available on mobile devices).






Our Members:

Elise Lobo Dougan - Violin
B.M., Lambuth University

Louise Lobo Mathenia - Violin
B.S., Lambuth University

Michael Mathenia - Viola
D.M.A., University of Memphis

Cameron Mathenia - Cello
B.M., Union University


**Pianist/Accompanist and Bassist are available and may be provided upon request.





Our Pricing:

Our cost depends on a variety of factors, but is usually based on the length/scale of the performance, the mileage involved, and the preparation time invested. We also reserve the right to include a small fee for any special arranging or composing that may be requested of us. However, our prices are also negotiable (we understand you are on a budget too!), so please feel free to contact us for specific rates, to view a copy of our contract, or to discuss alternative packages (i.e. a string trio or solo violin).
---